The last few weeks quite some things happened in the Dutch iGaming market. To keep you up to date we will list some of the most important developments below.
Toto Online hit with €400,000 fine
State-owned casino operator Toto Online received a €400,000 fine by the Kansspelautoriteit (KSA), the Dutch iGaming regulator. The casino operator received the fine because they targeted young adults with their marketing.
The main reason for the KSA to fine Toto Online is the fact they have send advertising messages to their entire customer base between 1 October 2021 and February 2022. This while the Dutch regulations don't allow operator to send promotional message to players aged 18 till 23.
The fact that Toto Online didn't protect young adults as they should have been very wrongly according to the chairman of the KSA (René Jansen).
"The law says that vulnerable groups, including young adults, must be given extra protection. The brains of young people are still developing. As a result, they are extra vulnerable to developing gambling addiction. Gaming providers must fully respect the rules intended to protect vulnerable groups. That did not happen here and that is why there is a fine. KSA chairman René Jansen said.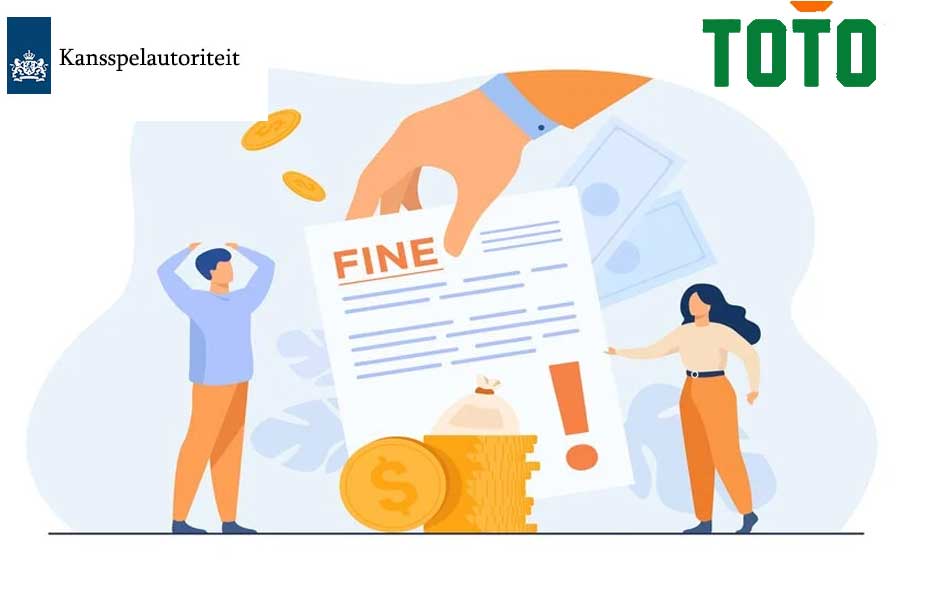 According to Toto Online they see the case a bit different. A spokesperson explained that rules when the Dutch iGaming market opened where quite vague. According to the spokesperson Toto Online implemented various rules regarding deposit caps and payments options for young adults. Young players could not lose more than €400 per month and they weren't allowed to deposit using credit cards. These steps show that the operator does want to protect their young customers.
Although Toto Online isn't happy and satisfied with how thinks went, they have paid the fine without further action.
Dutch operators ordered to cashback promotions
Another thing which was quite vague in our opinion was the rules regarding cashback promotions. This week the KSA gave more clarity about this subject.
At first, we were in the understanding that bonuses based on players behavior weren't allowed in the regulated Dutch iGaming market. But not that long ago casino operator Betnation launched with a weekly cashback promotion for players. Because of this we though that cashback where no issue at all.
Now the KSA has send out a letter to all license holders that they must stop all cashback promotions. The regulator stated that cashback bonuses encourage ''excessive participation'' and that why they are not allowed.
In the letter the KSA explained more about why cashback isn't allowed in the regular Dutch market.
"A cashback bonus has a game stimulating effect. Offering a bonus where a player gets back part of his loss contributes to taking more risk. In addition, the bonus may reduce the perceived risk of gambling among players who are vulnerable."
All licensed operators in the Netherlands have till 5 December to stop all their current cashback promotions.
Tax investigation launched for Dutch grey-market-activities
The Dutch government released a memo that revealed that there was a big tax investigation aimed on the Dutch grey-market. The government investigated several unlicensed operators and they planned to look at seven more.
The memo dated 28 October 2021, a few weeks for the launch of the regulated market. In the memo they mentioned that several online casino operators earned money of the Netherlands market, which should have been subject to taxes. But these taxes weren't paid.
According to the memo a lot of operators operated ''fiscally disguised'' to avoid paying taxes in the Netherlands. This costed the government tens, if not hundreds of millions in tax revenue.
Since the government lost big on gambling tax, corporate tax, and income tax they planned on aiming the illegal operators. These operators mainly operated through Maltese and Curacao entities and licenses. Currently 12 online gambling companies have been identified, but there are more to follow.
Although it seems they want to make a hard case against illegal operators it seems that they workload of the investigation could become a problem. Each case can take between 500 and 2000 hours in work. This while the national tax division (Belastingdienst) is strongly undermanned.
Earlier the Belastingdienst already closed an arrangement with LeoVegas for a whopping €14,9 million. This amount needed to be paid for shortcomings in income tax paid by Royal Panda casino, a venture which targeted the Dutch market and has recently been bought by LeoVegas.