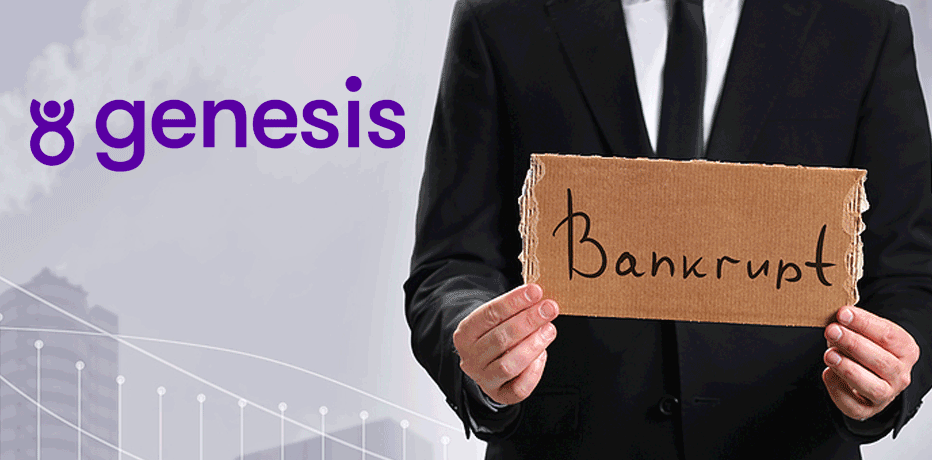 We have received some sad news. A huge Malta located gaming company is bankrupt. This just happened a few days before Christmas. Around 150 employees received this message 2 days before christmas. The company getting bankrupt is Genesis Global Limited.
Genesis is a well-known company in the iGaming industry. This company, with over 150 employees, managed 18 online casinos. It had online casinos with licenses all over the world. With a UKGC, MGA, Swedish and Spanish gambling license it had a very good trackrecord.
Rumours of a bad financial situation have been going around in the last few weeks. Employees seem to know that the financial situation wasn't healthy. All employees got an email that they are without a paid job after 22nd of january. What a shit message before the holiday season.
UKGC €4.5 million fine for Genesis – Bad Start before getting bankrupt
2022 Has been a tough year for Genesis. It started with a serious fine from the UK Gambling Commission. Back in January Genesis received a €4.5 million fine and it got their uKGC license suspended 9for the 2nd time). They got the fine because they had "social responsibility and money laundring failures".
Genesis got their license suspended for the 2nd time. Earlies they got their license suspended mid-2020. This suspention was lifted 3 months later. They made a lot of improvements and got their license back. In 2022 investigations got more intens and the company received their 2nd fine. This fine was the start of a bad year which came to an end with Genesis going bankrupt.
150+ Employees on the Streets of Malta
A total of 150+ employees received an email from Yoav Dotan a director of the company. In this email (see letter underneath) Yoav states that the employee will be without a job within 30 days. He also points on the financial situation. Yoav already warns employees that the company might not be able to pay their salaries. Both December and January salaries and outstanding bonuses will probably not be paid by the company.
Employees are asked / told to use all their pending vacation leave.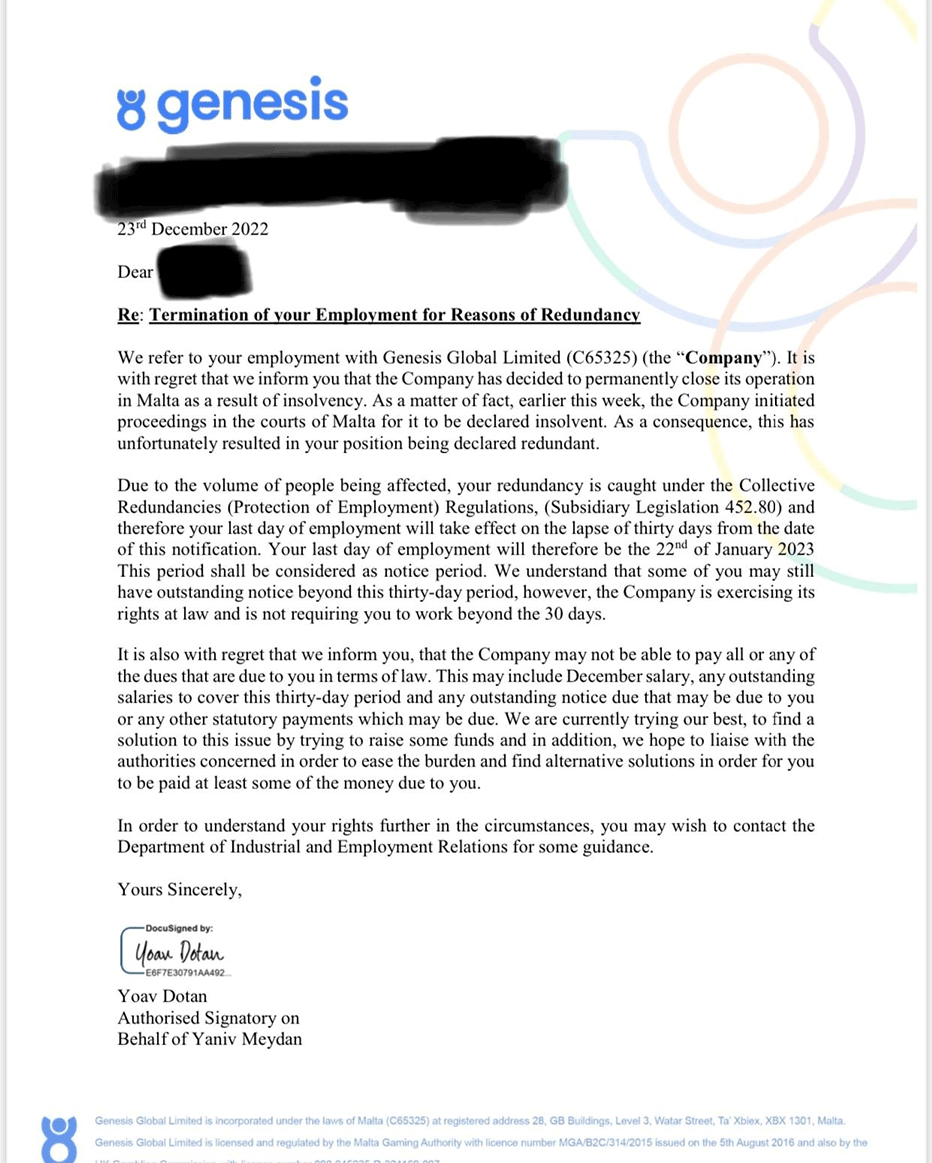 Government to take care of 150+ Employees Genesis Global after going bankrupt
In a statement the Maltese government says it will help find alternative employers for all employees that lost their jobs. A few of the fired employees actually already found a new job at a different company. It does not say if those people found a job in the iGaming industry.
At the moment there are over 700 vacancies free for iGaming jobs in Malta. So it shouldn't be that hard to get all employees a new suitbale job in the same industry. The ministry received all details from all employees and contacted them one by one to find a new job for them.
Casinos Genesis Global Limited
At the moment of going bankrupt Genesis had 18 active online casinos. All employees worked for those casinos. We don't know what is going to happen with the online casinos. Maybe there is another iGaming company ready to pick up the casinos and continue to run them. Another option could be closure. In that case all casino sites will go offline.
We highly recommend players of underneath online casinos to withdraw all their outstanding balance. You never know what is going to happen with the casinos. You can better withdraw the money and start playing at a different trustworthy online casino. On our website you find casinos which are 100% trustworthy and legit. Choose one of them and stop playing at online casinos managed by Genesis Global limited.
Underneath online casinos are managed by Genesis Global Limited:
Genesis Casino
Kassu
Sloty
Casino Gods
Casino Cruise
Spinit
Vegas Hero
Spela
Casino Joy
Pelaa
Casoola
Casino Planet
GenesisCasino.es
Casino Dome
Casino Lab
Vegasoo
Playerz
Casino Masters
At the moment the casinos are still open. As a player you can still login, deposit and play online casino games. We don't recommend you to play, but it is still possible.
Are you playing at a casino managed by Genesis?
When the answer on this question is Yes. I recommend you to stop playing at the casino. Request a withdrawal when you have money in your account. Don't make any new deposits because we don't know if you are still able to withdraw the money after you add it to your balance.
It is a very uncertain future for all 18 casinos managed by Genesis Global. And in uncertain times you can better choose a safe way to play. We recommend our visitors to choose another reliable online casino from our website.
We guarantee you safe and reliable gambling at all casinos listed on our website.
What is going to happen now?
We don't know the details but we think the company will try to find new owners for their casinos. The casinos could be worth a lot of money for other operators in the iGaming industry. With 18 online casinos you buy a lot of players and a solid database with world wide online casino players.
For employees it is clear. They have to find a new job and they have no guarantees that they receive their December and January salary. At least the Maltese government is taking care of the employees. With over 700 vacancies I don't think it should be hard to find a new job for all Genesis employees.
We will keep an eye on the news and see what is going to happen with the companies